Have questions or
want styling advice?
Artificial Pre-Made Giant Fern Basket
Our Artificial Pre-Made Giant Fern is a extravagant hanging plant which includes a rattan basket to finish off the stunning and realistic look. This plant is fitted by one of our florists to fit perfectly into any space.
Please note this product is not designed for outdoor use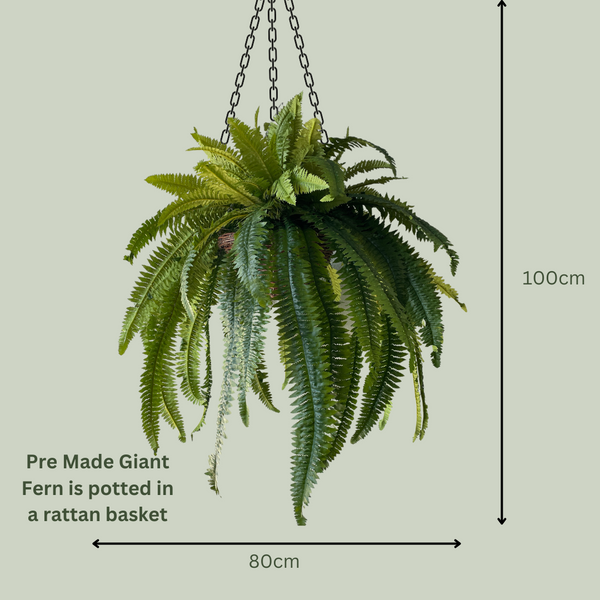 Why we love our Artificial Pre-Made Giant Fern
This woven basket is perfect for the plant lover who doesn't wish to get their hands dirty with soil and secateurs. Hanging plants and arrangements are fast becoming a stylish means of adding green goodness to indoor spaces.
How would we style it?
Hanging arrangements always look gorgeous in corner spaces. Try hanging them in groups at different heights with our other premade hanging varieties to make a real statement.
Why choose artificial?
We have customers who simply have restrictions – be it low light, busy schedules, small children, or curious pets. Faux plants give them the ability to bring greenery and joy into their space, minus the headache. Find out more here.
Our Story
Greenery matters. Treating your living space as a natural extension of the outdoors has been credited to relieving stress, increasing productivity and creating a happy and vibrant home. Whether your space is a bright white kitchen or a tired living room, it's yours to personalise and we're here to help.